Ocean acidification may push many fish to the brink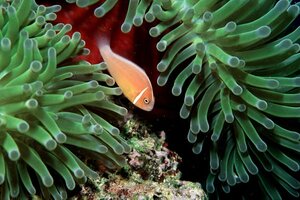 Melanie Stetson Freeman / The Christian Science Monitor / File
So, the US House has passed an energy bill aimed at helping the US kick its dependence on fossil fuels and help deal with global warming.
White sea bass and orange clownfish will be happy to hear that.
Recent research on ocean acidification, often dubbed global warming's "evil twin" (as if human-triggered global warming itself was a "good twin"), is beginning to show that acidification has the potential to disrupt the life cycles of fin fish, in addition to its effects on coral and shell-building marine organisms of all shapes and sizes that marine scientists have long fretted over.
Two recent studies highlight the concerns.
One, published last week in the journal Science, shows that acidification can lead to excessive growth in a key component in the organ a fish uses to sense movement and orientation -- analogous to the human inner ear.
The component is called an otolith. It is made from aragonite, a form of calcium carbonate particularly vulnerable to ocean acidification. Otoliths rest atop tiny hairs in liquid-filled sacs. With a change of direction or speed, the otolith bends the hairs in a new direction and with differing intensity, signaling the change to the fish.
Researchers wanted to know what would happen to otolith development in more-acidic waters. So a team of US and Japanese scientists, led by David Checkley at the Scripps Institution of Oceanography in La Jolla, Calif., reared two batches of eggs from white sea bass in tanks of sea water.
---