Good news on fisheries? With rising CO2 levels, 'all bets are off'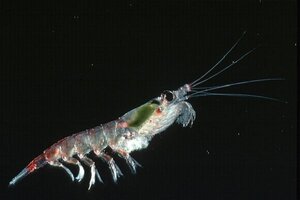 Courtesy of the British Antarctic Survey
The late Jerry Garcia, of "Grateful Dead" fame, strikes again. The lyrical snippet? "Every silver lining has a touch of gray."
This week's guardedly encouraging study on the state of the world's fisheries, which The Christian Science Monitor covered yesterday, is in many ways a milestone. It acknowledges the problem with overfishing, but also highlights current budding success stories, and the tools fisheries managers used to write them. And it represents a consensus among leading scientists who in the past have been at loggerheads over the health of the world's fisheries.
You can find a summary of the study at the journal Science's website. The full pdf is available by subscription.
But buried deep in comments members of the research team made during a press briefing on the study, University of Washington fisheries scientist Ray Hilborn added a strong caution that had nothing to do with nets, fishing fleets, or no-take zones.
"All bets are off with climate change, particularly ocean acidification," said Dr. Hilborn, one of the study's two lead authors.
---