Oops! This planet is orbiting in the wrong direction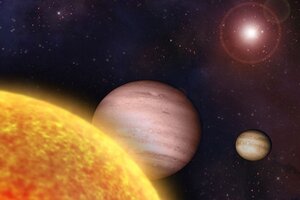 KASI/CBNU/ARCSEC
If astronomers have any notion of giving their newly discovered planet, WASP-17b, a more decent-sounding name, they should consider naming it after Wrong Way Corrigan.
The crafty Mr. Corrigan was a pilot from California who took off from an airport in Brooklyn, N.Y., on a foggy July evening in 1938. He claimed he was heading back to California. He wound up in Dublin, Ireland, 28 hours and 13 minutes later. (He told grumpy federal officials that he misread his compass in the fog; he actually headed east on purpose. But that's another story.)
Anyway, the new planet in question – about 1,000 light-years away – appears to be orbiting its parent star in the wrong direction. This is the first navigationally challenged planet anyone has seen. You can download a PDF of the formal report of the discovery here. A plain-English version appears here.
So, how can there be a "wrong" direction? This is outer space, after all. Oh, it's way wrong!
Researchers explain that when a star and its solar system form, they do so from the same rotating cloud of dust and gas. Everything that forms – from the star itself to the objects that orbit it – initially spins in the direction in which the cloud was rotating. The objects orbiting that star also orbit in the direction of the cloud's original rotation.
---
Follow Stories Like This
Get the Monitor stories you care about delivered to your inbox.