Hurricane Bill keeping you up? Take time for personal preparedness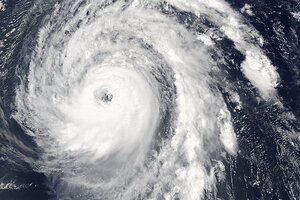 NASA MODIS Rapid Response Team
With Hurricane Bill churning northwestward in the Atlantic, storm-track charts are in hot demand, ones that take advantage of the power and reach of the worldwide web.
But what do you do with that information, other than become mesmerized by it? Use it as a prod to be sure you and your family are ready for a storm if and when it comes. That means having a family emergency plan, which will stand you in good stead for other natural hazards, including wildfires, earthquakes, or floods.
Several sources can walk you through the steps to being prepared, not the least of which is the American Red Cross's Hurricane Preparedness Guide, which downloads as a PDF file.
High on the list of items: Gather important papers -- wills, house deeds or rental agreements, birth certificates and passports, financial documents, pack them in a waterproof bag, and have them ready to grab on the way out the door in case you're ordered to evacuate. Essentially, you'll still need to pay bills and prove that you are who you say you are and own what you claim you own.
You may not be ordered to evacuate. Many communities are beginning to realize that it may be better to have residents not threatened by hurricane storm surges or who live above flood zones to shelter in place. Or if they need to evacuate, they do so to shelters near by.
But shelter in place implies having plenty of food (of the right kind), water, and other supplies on hand.
Good eats!
Some useful food tips come from nutritionists at Florida International University in Miami. Five years ago, they developed the Healthy Hurricane Cook Book. It's loaded with tips on what to buy, as well as with recipes that ensure people eat well-balanced meals, even when the power is out.
---