Dust storm in Australia turns Sydney into Mars
(Read article summary)
Australia's worst dust storm in 70 years has given a rusty tint to the the continent's east coast.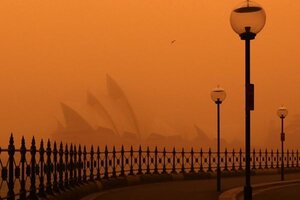 Reuters
When dust storms blow through Australia's outback, it's par for the course. When they turn Sydney into a Mars look-alike, it's time to sit up and take note.
A swath of eastern Australia labored Wednesday (Aussie time) under the worst dust storm in more than 70 years. Check out this photo gallery we put together.
Any way you look at it, the event is pretty extraordinary. According to Reuters, the storm carried an estimated 5 million tons of dust from the continent's interior to the east coast. A fair bit of that is priceless farm topsoil, according to the report. At one point, the storm was dumping an estimated 75,000 tons an hour into the Pacific off Sydney.
The country's eastern portion, particularly the farmland watered (at least at one time) by the Murray and Darling Rivers, is in its 12th year of severe drought. And forecasters say that it is likely to continue as El Nino strengthens through the rest of the year.
As for the virtually inevitable global-warming question: Researchers and forecasters are loathe to attribute any single storm to climate change. But the storm does represent one kind of weather phenomenon that is expected to become more frequent as the climate warms.
---