Has the Hubble Space Telescope spied asteroid-on-asteroid collision debris?
(Read article summary)
Astronomers have long suspected that objects in the main asteroid belt -- between Mars and Jupiter -- collide. Now they have what could be direct evidence.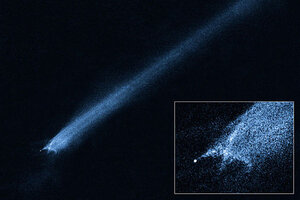 NASA, ESA, and D. Jewitt (UCLA)
Astronomers appear to have offered iron-clad proof that two asteroids cannot occupy the same spot simultaneously.
That was never really in doubt, of course. But when you can grab an image of what appears to be fresh collision debris, it makes for an "oh, wow" moment.
Astronomer David Jewitt enlisted the help of the Hubble Space Telescope to observe the apparent collision debris -- a feature first detected in early January by the Lincoln Near-Earth Asteroid Research effort. (The US Air Force foots the bill for LINEAR, which is operated by MIT's Lincoln Laboratory in Lexington, Mass.) If Dr. Jewitt's interpretation holds up, it represents the first time astronomers have seen such a collision, or at least the recent aftermath of a collision.
The aftermath of ancient collisions? You can see it on very dark evenings in a feature called zodiacal light. The sun's rays bounce of space dust that appears along the orbital plane of the solar system's planets and contains tiny fragments from comets and from asteroid collisions. (For classic-rock fans, Queen lead guitarist Brian May finally got his PhD in astrophysics in 2007 on the strength of his studies of zodiacal dust.)
The new feature, dubbed P/2010 A2, looks a lot like a comet's tail, acknowledges Jewitt, a researcher at the University of California at Los Angeles. But it displays striking differences as well.
---