Footlong cheeseburger: Why couldn't they make it bigger?
(Read article summary)
Footlong-cheeseburger enthusiasts have a new option: Carl's Jr. The footlong cheeseburger is being tested at the chain's Santa Ana, Calif., locations.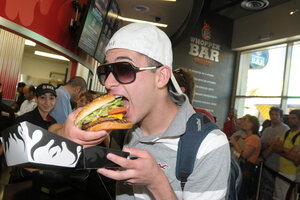 Phelan M. Ebenhack/AP
It's the American dream after all. Bigger and better, and bigger still. Who knew there was a whole world beyond KFC's Double Down, which consists of two fried pieces of chicken sandwiched together with cheese and bacon?
Apparently the footlong cheeseburger.
Earlier this month, Sonic released their Footlong Quarter Pound Coney, a 12-inch hotdog with chili and cheese that can be yours for $3. Not to be outdone by either KFC's mondo sandwich, Sonic's weiner, or iHop's cheesecake-stacked pancake, Carl's Jr. restaurant is testing the Footlong Cheeseburger.
IN PICTURES: Mmmmmmmmm... That's a lot of meat!
Excuse us if we are underwhelmed.
Foodbeast, who tasted Carl Jr.'s creation, said, "it's basically just a few patties and ingredients mimicking a sub sandwich. The dough on the bread seems a little off, but the execution of the entire sandwich still remains interesting."
It's called a cheesburger sub, people. And it's nothing new.
---