UFO over Chinese airport [VIDEO]
(Read article summary)
UFO Over Chinese Airport, Texas chupacabra sightings: Extraordinary claims call for extraordinary evidence.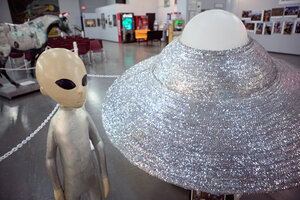 Newscom/FILE
The summer heat really must be getting to people.
First there were two chupacabra sightings within 10 miles of each other in Texas. Then, China shuts down Xiaoshan Airport in Hangzhou after a UFO sighting (video below).
Apparently someone didn't listen to Stephen Hawking and contacted the aliens.
Authorities in China are expected to discuss the object with a "bright comet-like tail," that was seen by a flight crew preparing for descent. Residents also said they saw the UFO emitting red and white rays of light.
"The thing suddenly ran westwards fast, like it was escaping from something," a local bus driver said of the strange glowing object.
Mirages? Hallucinations? Reflections of smog? The Oriental Yeti just got his pilot's license? We'd love to know.
Just like the chupacabra had a logical and realistic explanation – the mythical creature is likely a run-of-the-mill mammal with mange – so too is there an explanation for flying saucer sightings: mirages.
---