Why Blu-ray's victory might not matter for long
Sony's format beat out its Toshiba counterpart, but digital-delivery options evolve faster than a spinning disc.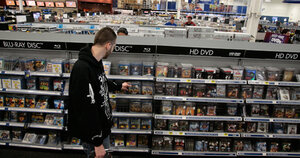 Damian Dovarganes/AP
After a slew of defections from the HD-DVD camp, Blu-ray is now the worldwide standard for high-definition movie discs. Sony, which lost in the 1980s when it backed Betamax cassettes over VHS, can now bask in its new format triumph.
But how long will this Blu-ray victory matter? Now, the champ must prove itself against a radically different competitor: movie downloads.
Internet video is already a big success on PCs. The Web offers everything from silly clips on YouTube to reruns on network television websites. Yet most people still prefer watching videos from their sofas, not their desk chairs. So, companies are scrambling for ways to cut out the computer and send digital movies and shows directly to TVs.
On-demand is already on the rise. Internet-connected TVs could continue the what-I-want-when-I-want-it trend even further – possibly eclipsing the need for plastic discs.
Internet traffic carrying video to TV sets will grow 10-fold from 2007 to 2011, according to Cisco Systems. And by 2012, piping movies straight to TVs will be a $1.5 billion business, predicts ABI Research.
The trick is whether companies "can provide easy-to-use solutions with good quality and large libraries, while offering attractive pricing options, whether subscription, download-to-own, or rental," says ABI research director Michael Wolf in the report.
---