Political websites: Clocks that never stop.
The presidential election may be over, but those covering politics have plenty to write about.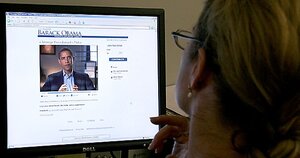 Karen Bleier / AFP / FILE
It was the best of times …
Over the past few months – September and October, in particular – if you wanted to be popular on the Internet, you should have blogged or run a website about the presidential campaign. Starting with the prolonged fight for the Democratic nomination in early 2008, and then the general-election fight between Sens. Barack Obama and John McCain, blogs and websites that dealt specifically with politics saw their numbers soar.
For example, when Politico.com sponsored one of the Republican debates in May, some 648,000 people visited the political website, up 162 percent from April. By September, 2.6 million people were visiting Politico. Also that month, an eye-opening 4.5 million people visited the Huffington Post, up a staggering 472 percent from September 2007.
TalkingPointsMemo, a blog run by Josh Marshall, had the largest percentage increase in September, up more than 1,000 percent from the previous year.
Other sites reporting spikes in Internet traffic over the past few months included FiveThirtyEight.com, Pollster.com, and
Andrew Sullivan's Daily Dish blog. (Daily Dish has always been well-read. But over the election campaign, Mr. Sullivan regularly talked about the increase in traffic his site was seeing.)
---