Porn on the iPhone?
Apple says it will hold the line on decency. But many say it's just a matter of time before adult content finds its way onto the popular smartphones.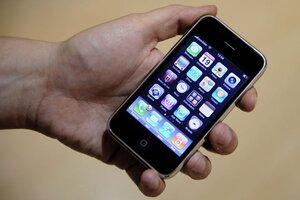 AP/File
Porn made its debut on the iPhone this week. While it was a limited showing as Apple quickly yanked the racy program from its App Store, it caused quite a stir in the tech world as bloggers were eager to speculate that Apple had opened the floodgates to adult content for its wildly popular smartphones.
But Apple appears to be holding the line on decency for now, although this brief appearance of the first application to feature nude photos raises questions about whether Apple will stick with its early pledge to not distribute X-rated content for its iPhone and iPod touch devices, which have combined sales of more than 40 million units.
On Thursday morning "The Hottest Girls" application showed up for sale via the iTunes App Store and then quickly vanished. At first, the application's developer said it was no longer available due to its overwhelming popularity -- he said it was "sold out."
Apple didn't quite see it that way. The company later said that the app had been removed because it doesn't "distribute applications that contain inappropriate content, such as pornography."
"The developer of this application added inappropriate content directly from their server after the application had been approved and distributed, and after the developer had subsequently been asked to remove some offensive content…. The application in no longer available on the App Store," the company said in a statement to CNN.
---