Boston airport tests radar to avoid bird strikes
The system allows real-time tracking of even small birds up to five miles away.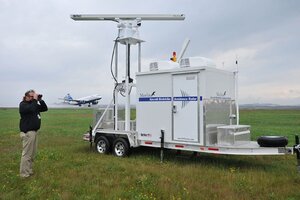 Josh Reynolds/AP
Logan International Airport is testing a specialized radar system the Air Force uses to protect its fighters and NASA uses to guard its $2 billion shuttles, as it considers stepping up its efforts at preventing collisions between birds and airplanes.With a wildlife mitigation lineup that already includes five full-time employees, Logan has long had an aggressive bird-strike prevention program. It is an attractive landing spot, jutting into Boston Harbor and sitting along coastal migratory routes.
Yet when U.S. Airways Flight 1549 splash-landed in New York's Hudson River after striking a flock of geese, Logan's operators looked to see if there was more they could do.
Now they are evaluating the Merlin Avian Radar System, manufactured by DeTect Inc. of Panama City, Fla.
Merlin allows real-time tracking of birds as small as a starling and as far away as nearly five miles. A spinning blade of a horizontal radar provides an airport overview, while a vertical radar scans a specific runway. Birds appear as red dots, with tails indicating their flight path.
"We're not trying to pinpoint every bird down to a gnat's eyebrow," said Gary Andrews, DeTect's chief executive officer, who demonstrated the radar this week for The Associated Press. "We're trying to document bird patterns for a successful response."
---