iPhones, laptops send Apple profits higher and higher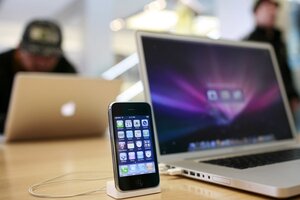 Robert Galbraith/REUTERS
Apple Inc., the closest thing the tech industry has to a luxury brand, said Tuesday its profit jumped 15 percent in the most recent quarter despite the recession. IPhone revenue surged and reduced prices pushed laptop sales higher, even as the rest of the PC industry shrank.
The company, which recently welcomed CEO and co-founder Steve Jobs back from medical leave, said earnings in the quarter that ended June 27 rose to $1.23 billion, or $1.35 per share. Apple's profit was $1.07 billion, or $1.19 per share, in the same period last year.
Sales increased 12 percent to $8.34 billion from $7.46 billion in the year-ago quarter, which is the third in Apple's fiscal calendar.
Apple beat Wall Street's forecast on both counts, which helped send its stock higher in extended trading. Analysts were expecting Apple to earn $1.17 per share on $8.20 billion in revenue, according to a Thomson Reuters survey.
"In a better economy I think we would have sold even more," Apple Chief Financial Officer Peter Oppenheimer said in an interview.
Apple said it sold more than 5.2 million iPhones in the quarter, more than seven times what it sold in the 2008 quarter, thanks in part to a newly released version of the device.
Apple also sold 4 percent more Mac computers than a year ago, with a 13 percent rise in laptop unit sales offsetting a 10 percent drop in desktops. Meanwhile, researchers recently reported a 3 percent to 5 percent decline for the overall worldwide PC market in the same period.
---