Can Yahoo survive its deal with Microsoft?
While the pact between the two technology powerhouses promises to be a boonfor Microsoft as it takes on Google, it has left many insiders wonderingabout Yahoo's future.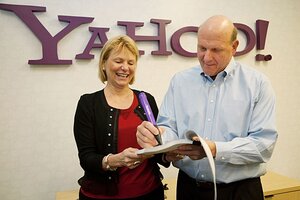 Yahoo/AP
Microsoft grabbed the No. 2 position in the lucrative world of Internet search engines in its deal with Yahoo announced Wednesday. But can Yahoo survive without search?
Once the king of Internet queries, the Sunnyvale, Calif., company has given up on the search business to focus on enriching its roster of websites and making the site the "center of people's lives online," according to Carol Bartz, the company's chief executive officer.
By handing over its Internet search capabilities, experts say Yahoo has given Microsoft the keys to one of its most important assets. While Yahoo trails Google in market share of Internet searches, it still commands 28 percent of all search traffic. That's not bad in a business that brings in $12 billion annually.
The deal has its risks. Not only does it have to satisfy federal antitrust regulators but it has to please investors and, perhaps most importantly, millions of Yahoo users. Bing is new and relatively untested. While it has been met with positive reviews so far, if users are unhappy with a Yahoo search "powered by Bing," they could quickly hop to Google.
As for Yahoo, it can't do without search, says Jason Calacanis, the founder of Mahalo.com and the former general manager of Netscape.
---