With search, size matters, says Microsoft
Microsoft sees size as search answer in Yahoo deal.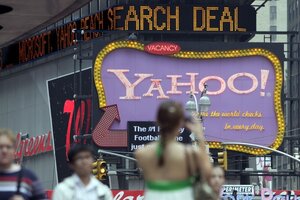 Richard Drew/AP/File
Microsoft is hoping that a long-term partnership with rival Yahoo will give it the size and insight it needs to bring in more traffic, more advertisers and ultimately more revenue.
By handling Yahoo Inc.'s searches along with its own, Microsoft Corp. can learn more quickly what works and what doesn't. A smarter search engine might draw more Internet users, and more advertisers could follow, driving up prices.
Size, though, may wind up being far from the magic bullet that Microsoft is counting on in forging a 10-year partnership to power all Yahoo searches.
Search leader Google Inc. has had a head start in technical development, and Microsoft already has had plenty of search queries to analyze — yet it remains stuck at No. 3. Adding more data might not make a difference.
"They have lots of scale. They have lots of traffic. Even being the third-place player, they have huge amounts of data to understand their own relevancy," said Danny Sullivan, editor of the search news site Searchengineland.com. "I just don't know why they keep putting that argument out."
The deal still needs regulatory review on such issues as whether it will promote or hinder competition and how the two companies will share the personal data collected in searches.
If approved, Microsoft's technology will process Yahoo's searches behind the scenes. The only nod to Microsoft will appear — with credit placed at the bottom of the page — when a user gets results from a Web search.
In exchange, Microsoft will keep 12 percent of the ad revenue those searches generate. That's a better deal for Yahoo than most agreements of this sort, though the terms go up for review halfway through the deal.
---