A short guide to tools for citizen journalists
Before you sign up as an amateur reporter, here are some essentials.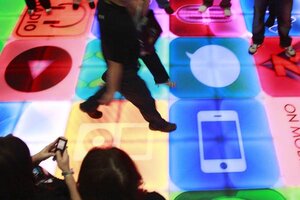 Tim Chong/REUTERS
Recently, I've been working as a consultant on a new media project that focuses on citizen journalists. While "professional" journalists may raise an eyebrow at the idea, the reality of the new 24/7 news world – combined with a decline of local coverage in many cities and regions because of cutbacks – is that citizen journalists are no longer just a passing fad. In many places, they are contributing valuable reporting because of their determination to make sure important stories in their communities do not go uncovered.So I thought I would offer a few suggestions about ideas and tools for budding citizen journalists.
The most important thing any reporter can have, of course, is curiosity and the courage to keep digging when you're told to go away or "there's no story here." Those skills are hard to teach. But one good place to look for suggestions is at J-Lab's J-Learning site. J-Lab, located at American University in Washington, D.C., frequently focuses on citizen media. At J-Learning, you'll find suggestions on everything from how to do interviews, or how to do a slideshow, to how to understand site metrics (translation: who is reading you and how often.)
Another good place for tips is the Poynter Institute's training section. Many of their webinars and online courses are free of charge or at relatively small fee.
---