You bought an iPhone 4. So how do you trade in the old iPhone?
Don't trash your iPhone 3G just because you bought an iPhone 4. You've got a range of options when it comes to your old handset, from recycling to exchange offers.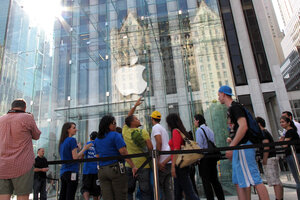 Newscom
So you've braved the lines, managed to look past the blotchy yellow lines under the screen glass, and learned to hold your new iPhone 4 with your right hand, instead of your left. What should you do with your old iPhone 3G or iPhone 3G S? Whatever you do, don't throw that thing away. There are a range of options for folks upgrading from one iPhone to the other – and some of them will even earn you a couple of bucks.
Option A: Sell your old iPhone
A iPhone 4 isn't cheap – the handsets will set you back at least $199 with a contract – but by selling your old iPhone, you can defray part of the cost. Plenty of services will pay cash for iPhones in good condition. Options abound. Looking for a place to start? Check Gazelle.com, which offers $96 for a 16GB iPhone 3G, or the oh-so-subtly-named CashForiPhones.com.
Option B: Donate your old iPhone
If you're not pressed for cash, you might consider donating your old iPhone to a nonprofit organization. CellPhonesForSoldiers.com, for instance, is currently accepting smartphone donations, and the site offers a free shipping label, to make the process easier. Another possibility: Call To Protect says it has raised more than $3.5 million from refurbished phone sales. The earnings go toward grants for smaller groups fighting domestic violence.
---