Gulf oil spill: BP grants $500 million for independent research
Some experts wonder how 'independent' BP's grants for Gulf oil spill research on ecosystem damage and recovery will be. But so far, it looks like the money comes with no strings attached.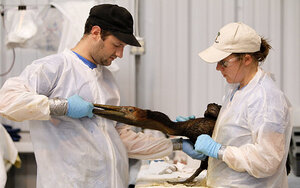 Charlie Neibergall/AP
The first research grants from a $500-million bushel of cash BP has pledged for independent research into the consequences of the Deepwater Horizon oil spill are expected to reach individual scientists as early as this coming week.
To several marine scientists, the program represents an opportunity to gain a better understanding of the effects of oil, gas, and dispersant in deep water, monitor long-term biological impact of the blow-out, and figure out new ways to restore damaged ecosystems.
Others caution that until more is known about how BP is setting up the effort, the program could be little more than the company's attempt to co-opt leading experts on issues that are bound to be raised as the federal and state governments assess damage and pursue potential civil and criminal actions against the oil giant.
IN PICTURES: The Gulf oil spill's impact on nature
The research aspect of the spill "is extremely important," says David Goldston, director of government affairs for the Natural Resources Defense Council (NRDC) in Washington and a former chief of staff for the House Science Committee on Capitol Hill. "Are we doing enough of what we need to do to get research underway in an organized, thorough, planned-out manner over the years to come to make sure we understand what happens in cases like this?"
---