Facebook IPO: Are users really worth $125 each?
The Facebook IPO suggests that the social network's 800 million users are worth $100 billion. What role will Facebook's audience play as the mega giant files what could become one of the largest IPOs of all time.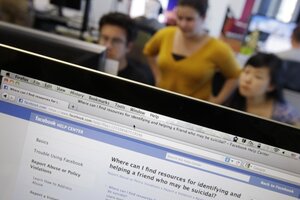 Paul Sakuma/AP/FILE
As Facebook reportedly gears up to file for its initial public stock offering Wednesday, the value of its 800 million users has come into question. Facebook, the world's largest social network, has been estimated to be worth $100 billion. That makes each user worth $125.
Compared with other social media companies that have gone public, $125 is a high number. But with the plethora of personal information that users post on Facebook – willingly and for free – investors could be swayed, despite the lackluster stock performance of other social media companies.
While Facebook has proven itself to be a company with some longevity, the social media world has changed a lot since Mark Zuckerberg launched the website in 2004. Investors can't be sure that Facebook will remain top dog for long.
"It's tough to predict how Facebook will do with all the hype," says Kevin Pleines, a market analyst for Birinyi Associates. "The market has not reacted too favorably [to social media companies] since the beginning of last year."
Almost all of the social media companies that went public in 2011 are worth less now than they were on their opening days, he says. It's unclear whether the weak state of the market had an influence or if social media companies simply aren't a good buy.
However, Facebook may be different. Its value lies in the website's wealth of personal data and its requirement that all users provide their real names. This vault of demographic information means that Facebook can post targeted ads with much greater accuracy than most other websites. With every "Like" or musical artist added to a user's profile, related advertisements may better home in on potential customers.
---