Mobile World Congress: Best of day one
The year's largest display of up-and-coming mobile phones, Mobile World Congress, has gotten off to a good start – especially for Android. Check out a list of our favorites from day one of the conference.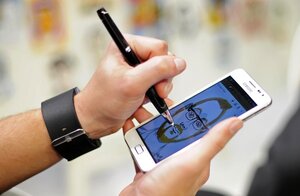 Emilio Morenatti/AP
Mobile World Congress, one of the largest gatherings of phone makers, is always full of good surprises. And this year's show is no exception. Already during the first day of the conference in Barcelona, big-time manufacturers from Sony to Samsung have showcased new Android phones aplenty – one of which actually has a built-in projector. Here are three of the most appealing phones from the show so far.
Samsung Galaxy Beam
Just as the name suggests, Samsung's latest Android phone serves as a mini-projector, displaying anything on its screen in 640 by 360-pixel resolution. (We're already imagining life-size Temple Run projected onto a wall.) The Galaxy Beam is a littler thinker than a normal phone, but remains less than half an inch thick. Samsung says the phone can project for about three hours straight on a single charge, and judging by CNET photos, projections are bright and clear. Initially, the idea of a projector brings back memories of elementary school science class – but in reality, it's one of the great untapped technologies of mobile phones. If it delivers, the Beam will be able to cut out the many cords and frustrations that come with linking up computers/phones to televisions and other screens. Good for business presentations, great for playing games and video.
HTC One X
---