Why Gioachino Rossini's music is so funny
Gioachino Rossini, whose leap-day birthday is marked by Google on Wednesday, had a gift for comic timing that would be recognized by today's sitcom writers.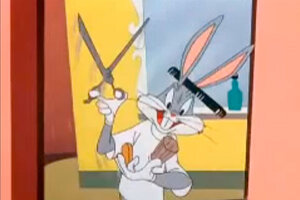 Youtube
In 1822, hotshot opera composer Gioachino Rossini got a bit of advice from Ludwig van Beethoven: Stick to comedy. At age 30, Rossini was already an international superstar, with nineteen operas under his belt, when he met the crotchety, near-deaf German composer in Vienna.
"So you're the composer of The Barber of Seville." Beethoven said. "I congratulate you. It will be played as long as Italian opera exists. Never try to write anything else but opera buffa [comic opera]; any other style would do violence to your nature."
Rossini politely reminded Beethoven that he had already written several well-received serious operas; he had even sent them to Beethoven for a look. "Yes, I looked at them," the old man retorted. "Opera seria is ill suited to the Italians. You don't know how to deal with drama."
Beethoven's words turned out to be eerily prescient. Rossini was renowned for his dramatic work during his life, but those historically fell by the wayside in favor of his comic operas, chiefly "The Barber of Seville." Later use of Rossini's works in cartoons, commercials, and sitcoms further cemented his reputation as one of the opera world's great comic minds. His 220th birthday (or 55th, since it's a leap year) is today.
---