Hybrid cars 101: How long should batteries last?
Owners complain that some hybrid-car batteries conk out early. What is the lifespan of a hybrid battery?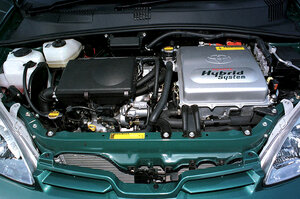 Atsushi Ts ukada/AP/File
Japanese automaker Honda found itself in a second US court case early this year over a batch of problematic hybrid-car batteries that customers say sabotaged their fuel efficiency by as much as 40 percent.
Like other hybrids, the Honda Civic Hybrid relies on a battery system that gives the gasoline engine an extra boost in efficiency. These energy cells recharge while driving, but lose capacity over time. Now a class action lawsuit alleges that Civic Hybrids from the years 2006 to 2008 had shoddy batteries that reduced their fuel economy from the promised 50 miles per gallon to 30 m.p.g. within just a few years.
How long should such a battery last? Hybrid owners already pay a premium for their fuel efficiency. Replacing the battery midway through the life of the vehicle would tack on an additional $2,000 to $4,000.
Fortunately for hybrid owners, the Civic's battery problems seem to be an anomaly.
"What appears to be some sort of failure in Honda Civics has not been reported in the other models," says Bradley Berman, founder of the news and reviews site HybridCars.com. "I'm not saying that these batteries will last forever, but the general sense is that they will last for, quote, the lifetime of the vehicle."
Cinda Gobeille had to garage her Toyota Prius when the battery gave out after a healthy life of 10 years and 144,000 miles. The car looks great, she says. But without a new battery, which dealers say will cost up to $4,200, her hybrid simply won't turn on.
"It could get 50 miles per gallon on a good day," says Ms. Gobeille, a nurse case manager from Woonsocket, R.I. "When the battery was dying, it dropped down to probably 35 [m.p.g.]. It's a great little car. I really enjoyed my Prius, but this battery system is just too expensive to replace on such an old car."
---