Temple Run for Android proves that 'free' can be profitable
Temple Run for Android, released Tuesday, gives new momentum to Imangi Studios' mobile game sensation. Temple Run has already made a fortune off of its (free) iPhone and iPad app. But how?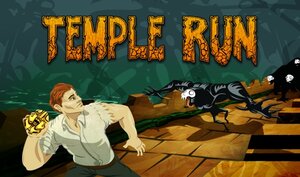 TriplePoint/Imangi
Almost all successful video games share one thing in common: They pair in-depth game play with stunning graphics. Last year's Call of Duty: Modern Warfare 3 combined player customization, varying scenarios, tight controls, and explosive visuals worthy of a summer popcorn flick. The game made $400 million on its opening day, selling 9 million copies in November alone.
But that cardinal rule of $60 Xbox games doesn't apply to iPhone and Android. In the blossoming world of mobile games, success is much less predictable. Cutting-edge graphics are nice, but hardly necessary. In-depth game play is often scrapped for a single, well-realized idea. And at least one app has made a fortune by giving away its app for free.
Temple Run, developed by Imangi Studios' designer-couple Natalia Luckyanova and Keith Shepherd, hit 36 million downloads in February, according to the company. That's 36 million downloads on just iPhone and iPad – the game was released for Android on Tuesday. Temple Run features Guy Dangerous, "just your average explorer," running from a band of polygonal demon monkeys through an endless, twisting jungle path.
The objective is to collect coins, grab power-ups, and stay alive – a call back to the days of the original Super Mario Bros. So how is a game with such a simple premise holding its own in the era of Modern Warfare 3, which has a six-hour story and 16 multiplayer arenas? There are countless iPhone games with simple premises and rudimentary graphics. What is it about Temple Run that resonates?
For one thing, games such as Temple Run are perfect in terms of the smart-phone mentality – they're quick, easy, versatile, and don't take much thought. Whip out your iPhone, play for 30 seconds and go about your day, or sit on the couch and enjoy a longer session. This isn't the case for Modern Warfare or other games featuring elongated campaigns, all of which require conscious effort and time.
---