Rural tinkerer builds the first airplane made in Afghanistan
Sabir Shah, Afghanistan's 'Wright brother,' constructed an airplane by himself.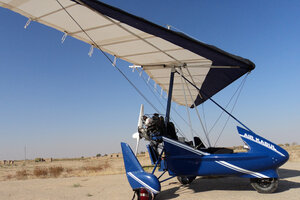 Courtesy of Sabir Shah
Afghanistan's rural Ghazni Province usually appears on the news radar only to herald a tragedy: Five Polish soldiers were killed by a roadside bomb days before Christmas. A group of armed men accused a widow and her daughter of adultery in November and stoned the pair before shooting them in front of their home.
In other words, it's not the sort of place you'd expect to find a hobbyist aviator in his backyard building what he describes as the first airplane ever designed and constructed in Afghanistan.
Yet, over the past three years Ghazni-native Sabir Shah managed to fashion a one-man "microlight," aircraft at his family home using instructions from the Internet and parts from the local market.
While impressive compared with a Wright Brothers' creation, the plane is far from a marvel of modern aviation. But Mr. Shah hopes it's enough to inspire government support or private investment in Afghan aviation.
So far though, aside from modest, but passing interest from a few government officials, he's received little attention. Most Afghans, including his own family, have called him crazy and told him to get a regular job. Still, Shah remains determined to create a business building airplanes for Afghanistan.
"I believe that if you want something, you can get it," he says.
Shah is an unlikely candidate to be Afghanistan's aviation advocate. A high school graduate with no pilot training nor aeronautical engineering background, he'd never even traveled by airplane when he started building one.
For Afghans wishing to learn how to fly, the options are extremely limited. The country has a fledging air force, but there are no other practical opportunities for pilot training. The Ministry of Transportation and Aviation offers flight classes, but ministry officials admit that few students actually take the courses because Afghan airlines almost exclusively hire foreign pilots with better training and more experience.
---