Ultrabooks: Thin and light, but not harbingers of a 'New Era'
REVIEW: Intel touts Ultrabooks as 'A New Era in Computing.' The thin, swift laptops are probably the best thing right now for getting work done on the go, but they'll be eclipsed by the iPad and other tablets before too long.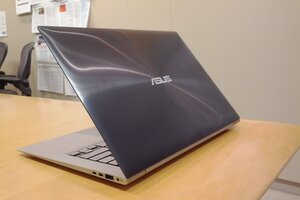 Jeff Ward-Bailey
Perched on my lap is a surprisingly svelte machine. The ASUS Zenbook's aluminum chassis tapers to a whisper-thin edge. The brushed-metal lid gleams with class. The whole thing weighs just under three pounds: I can throw it in my backpack and barely notice the change. It runs coolly and almost silently, even when I'm looping YouTube videos or flipping between multiple programs. In short, it's got a lot to commend.
This Zenbook is one of the flagship "Ultrabooks," a term Intel coined last year to describe thin-and-light PC laptops similar to the MacBook Air. And in Intel's eyes, Ultrabooks aren't just an iterative step in notebooks: their marketing campaign, launched just last week, is called "A New Era of Computing." An Ultrabook TV ad quips, "Suddenly, everything else seems old-fashioned."
But in spite of my fuzzy feelings about the Zenbook, I'm not convinced that this is really where the "New Era" of computing lies. I think it lies with tablets – and, specifically, with the iPad.
---