Could an 'iPad mini' stamp out the Kindle Fire?
Rumors of a 7-inch 'iPad mini' continue to flood the Internet. Will Apple CEO Tim Cook succumb to the popularity of smaller, cheaper tablets such as the Kindle Fire, or continue to follow in Steve Jobs' footsteps?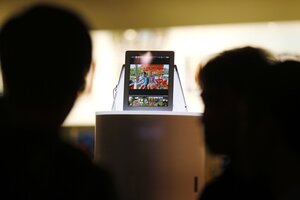 Tim Wimborne/Reuters
In 2010, Steve Jobs said an iPad mini would be "dead on arrival." But the new Apple CEO Tim Cook might not have the same theory. The popular gaming website Kotaku translated a report from China on a smaller $249-299 iPad ­­that may be released in the third quarter of this year. This iPad mini would combat the Kindle Fire and yet-to-be-released Windows 8 tablets.
This isn't the first rumor about an "iPad mini," as journalists have deemed the mythical device. But it's helped fuel the debate as to whether Apple should release a cheaper, more portable version of the wildly successful iPad.
Jobs didn't think so. He said that a smaller tablet is "meaningless unless your tablet also includes sandpaper so that the user can sand down their fingers to around one quarter of their present size." In other words, he didn't think a 7-inch tablet would be fully functional or able to display the highest screen resolution possible (as the new iPad does).
With the advent of devices such as the Kindle Fire, a second tablet market has been created that some say shouldn't be ignored. While the new iPad has a leg up on the competition because of its crystal clear retina display, lightning fast processor, and a heap of popular apps, the Kindle Fire has several advantages ­– portability and lower price.
---