Apple pulls out of eco-friendly certification, insists it's already green
Last week, Apple removed 39 of its computer products from the "powerful" EPEAT registry of green electronics. What does this mean for a tech giant that prides itself on being eco-friendly?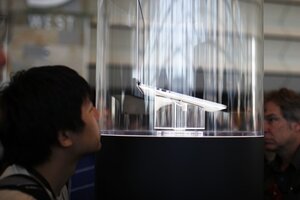 Stephen Lam/Reuters
Apple has pulled all of its products from EPEAT, the Electronic Product Environmental Assessment Tool – basically a government-backed list of "green" electronics. Managed by the Green Electronics Council of the US government, EPEAT is widely regarded as one of, if not the, standard for environmentally friendly computers and devices.
Why would Apple want to disassociate itself from a green measuring tool? Because the tech giant thinks its standards are good enough, according to an Apple representative.
"Apple takes a comprehensive approach to measuring our environmental impact and all of our products meet the strictest energy efficiency standards backed by the US government," Apple representative Kristin Huguet told tech blog The Loop. "We also lead the industry by reporting each product's greenhouse gas emissions on our website, and Apple products are superior in other important environmental areas not measured by EPEAT, such as removal of toxic materials."
EPEAT measures environmental areas such as reduction/elimination of environmentally sensitive materials, packaging, and material selection, according to its website. The Green Electronics Council has admitted some of the criteria are outdated, which may have played a factor in Apple's decision to back out, according to The Loop.
"Expanding EPEAT's global reach through the multiple certification [process]; as well as moving into new, additional products; as well as updating the EPEAT [certifications], because they're a little long in the tooth…[each of those] is a huge project on its own," EPEAT board member Christine Ervin said.
---