NYPD battled Twitter over threat to Mike Tyson show
NYPD battled Twitter for access to user information. In the aftermath of the Aurora and Sikh temple mass shootings, the New York Police Department isn't taking any chances when it comes to online threats.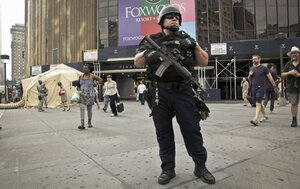 Bebeto Matthews/Associated Press
The New York Police Department subpoenaed Twitter in order to obtain "personal information" about one of the social network's users who made online threats reminiscent of alleged Aurora gunman James Holmes.
The NYPD suspects the user's tweets are directed at the audience of the "Mike Tyson: Undisputed Truth" Broadway show directed by Spike Lee, according to The New York Times.
"This s--- ain't no joke yo I'm serious people are gonna die just like in aurora," one tweet read. Others included, "I'm in Florida rite now, but it'll happen i promise I'm just finishing up my hit list," "I might just shoot up this theater in New York," and "I got 600 people on my hit list and that's gonna be a mass murder for real."
The New York Post cited the user's Twitter handle as @obamasmistress, with the display name "Anonymous Celebrity."
Twitter denied police access to the user's personal information and IP address on Aug. 3, but the California-based company decided to comply with the court order served Aug. 6.
---