Samsung Galaxy Muse, shaped like a skipping stone, on sale for $50
Samsung has released a small, sleek, smooth MP3 player called the Galaxy Muse. Move music from your Galaxy smartphone to the Galaxy Muse with a tap of your finger.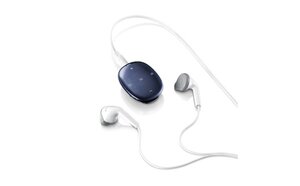 Samsung
Conventional wisdom has it that smartphones are rapidly becoming the equivalent of high-tech Swiss Army Knives – everything from cameras to e-readers to credit cards to video game systems to MP3 players fits neatly inside. But that doesn't mean plenty of manufacturers aren't still pursuing purpose-built, pocket-sized devices. Consider the PlayStation Vita, the Amazon Kindle, or the Apple iPod.
Or look to the Samsung Galaxy Muse, a pint-sized music player the size and shape of a skipping stone. The Muse, which is on sale now through the Samsung site or online retailers such as Amazon, is priced at $49.99 – on par with the $49.00 Apple iPod Shuffle. The device comes in two color schemes – white or blue – and packs 4 GB of memory and a clip on the back to attach to running shorts or the collar of your shirt.
---