Apple TV set on the way? Maybe, but don't hold your breath.
An Apple TV set is in an 'early stage of testing,' according to a new report. But there are no guarantees the device will ever see the light of day.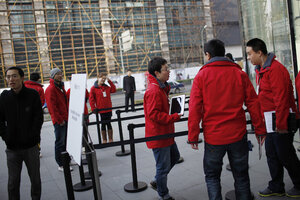 Reuters
Apple is in the "early stages" of testing a new television set, The Wall Street Journal is reporting.
In a lengthy article published today (subscription only), Journal reporters Lorraine Luk and Jessica Lessin write that Apple is working with manufacturers Sharp and Hon Hai to produce a prototype for a flatscreen, HD television set. This syncs up with previous whispers of talks between TV component makers and Apple, and with the mention in the recent Steve Jobs biography of an "integrated television set."
So when will the Apple television set finally hit shelves? 2014 or 2015, venture capitalist Marc Andreessen has speculated. Then again, the Apple television set might not arrive at all – ever. Consider that The Wall Street Journal report, which is sourced to anonymous folks in the Apple supply chain, is only the latest in a long and illustrious list of Apple television set rumors dating all the way back to 2009.
---