Apple iPhone gets blockbuster weekend, thanks to China
Chinese consumers snapped up 2 million iPhone 5 handsets over the weekend. Still, a new Citi Research report helped drive Apple shares down.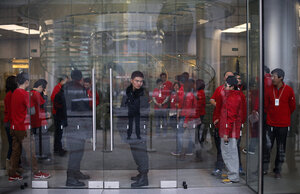 Reuters
Chinese consumers snapped up two million iPhone 5 handsets in just three days – a record for the best weekend launch of an Apple product in China.
In a statement, Apple CEO Tim Cook called China a "very important market for us," and said "customer response to [the] iPhone 5 in China has been incredible."
Certainly, the sales figures are good news for Apple, which has not experienced the same market success (nor invested the same marketing muscle) in the east as it has in the States.
As The Wall Street Journal notes, Apple sold only 2.1 million iPhone 4S units in China in the entire fiscal third quarter of this year.
Still, not all is bliss in Cupertino. On Monday, shares in Apple fell after Citi Research downgraded Apple's stock on Sunday from "buy" to "neutral."
"Our previous buy rating was trading oriented, reflecting our expectation for a near-term rally (after a substantial sell-off) on strong iPhone 5 sales," Citi Research said in a note to investors obtained by the Journal. "However, near-term supply-chain order cuts, while inconclusive in nature, bring into question the strength of [the] iPhone 5 and refocus investors onto risks in the Apple story."
---