Websites go dark: Moment of silence honors Sandy Hook victims
Websites go dark one week after the shooting in Newtown, Conn. A group of tech leaders and celebrities interested in tightening gun laws organized for the websites go to dark at 9:30 a.m.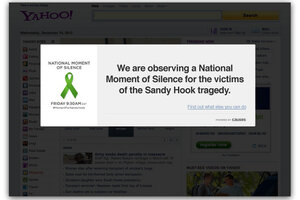 webmomentofsilence.org
Dozens of websites briefly went dark at 9:30 Friday morning in a digital "moment of silence" to honor the victims of last week's shooting at Sandy Hook Elementary School in Newtown, Conn.
The Huffington Post, Digg, Aol, and others displayed a simple banner in memory of those killed in the attack, and included a link to a Causes.com Web page outlining a campaign to reduce gun violence. By noon on Friday, nearly 200,000 people had signed the page's pledge to "support gun violence prevention," using the Twitter hashtags #momentforSandyHook and #NeverAgain to spread the message.
Many of the larger participating sites were invited to take part, but the moment of silence wasn't an exclusive event. The associated page webmomentofsilence.org offered ready-made code that anyone could embed in their site to show a simple message over a darkened background. Webmomentofsilence.org also ran a complete list of the hundreds of sites that participated in the blackout.
While the online moment of silence was taking place, bells were ringing throughout Newtown to mark one week since the shooting. Connecticut Gov. Dannel Malloy stood with other officials on the steps of the Newtown town hall as the bell rang 26 times, once for each person killed at Sandy Hook Elementary School. Similar commemorations took place across the country, in spite of the rainy weather in many areas.
---