Lenovo IdeaCentre Horizon: The tablet that's also a table
Tired of pint-sized tablets? You could do worse than the absolutely humongous IdeaCentre Horizon, which Lenovo debuted at CES this week.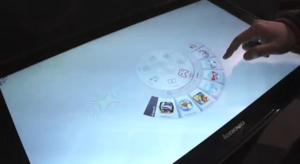 YouTube
The iPad Mini, which was introduced last year by Apple, was intended for users who wanted to be able to pick up their tablet with a single hand (the device, as Apple put it memorably in a press release, is "thin as a pencil and as light as a pad of paper"). The new Lenovo IdeaCentre Horizon Table PC, on the other hand, is for users who care not a whit for weight, and want a whole lot of screen real estate.
The IdeaCentre Horizon Table PC, pictured above, is big. Classroom desk big. 27-inches big. (By comparison, the iPad Mini has a 7.9-inch screen, and the regular iPad has a 9.7-inch screen.) Introducing the device at CES this week, Lenovo said the Horizon was designed for "multi-user, multi-touch" shared experiences – two users could play Monopoly on the Horizon, for instance, or create art on an app such as Color Corner.
Haul the Horizon to an upright position, and the device becomes a television set or a more traditional computer with a touchscreen.
---