Cheaper Apple iPhone reportedly on the way
Apple is prepping a cheaper iPhone, according to one new report.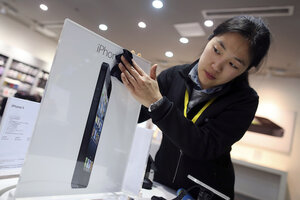 Reuters
Apple, under increasing pressure from competitors, and eager to break into developing markets, is actively working on a less expensive iPhone.
That's the word today from The Wall Street Journal, which says the device would likely resemble the boxy iPhone 4 and iPhone 5, but be built out of far cheaper materials. The Journal targets the smart phone for a launch later this year – a timeframe that may mean Apple will release both a new top of the line iPhone and a bargain counterpart at the same time. (If past years are any indication, the successor to the iPhone 5 will launch in the fall of 2013.)
Apple won't comment on the rumors, but speculation about a cheaper iPhone has been rampant for years now, and the Journal is rarely wrong about this kind of thing.
---