Free calling comes to Facebook Messenger (with a couple catches)
Facebook is allowing some users to place free voice calls over its Messenger app.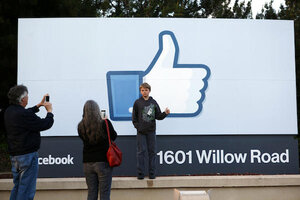 Reuters
Facebook is one step closer to replacing your old-fashioned cellular voice and texting plans altogether.
As we reported back in December, Facebook recently unveiled a new Messenger app, which allowed users in some countries to quickly (and for no charge) send text messages to Facebook friends. It was effectively a runaround to text messaging. Now Facebook has introduced a free call functionality on the same Messenger app – boot the thing up, and you can call Facebook buddies over a Wi-Fi or cellular connection.
Some stipulations to note: According to Engadget, you've got to have the latest version of the iOS Messenger app to access the free calling feature, and so do the people you're trying to call. (Presumably an Android rollout is on the way.) In addition, as Terrence O'Brien of Engadget notes, since the "free call" button is tucked away on the "contact info" page of a profile, it does take a little bit of "probing" to discover which of your friends will accept Facebook calls.
---