Google 'X-Phone' ready to blossom this spring: reports
The so-called X-Phone, the fruits of Google's recent acquisition of Motorola Mobility, is said to be introduced early this spring.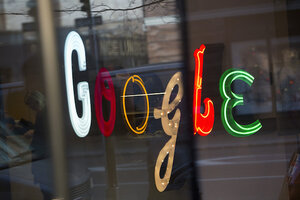 Reuters
Late last year, rumors began circulating about a so-called "X-Phone" – a handset to be produced by Google and its recently-acquired Motorola Mobility division. Unlike the Nexus smartphones, which ran Google Android software but were built by outside manufacturers, the X-Phone would be entirely a Google affair. In a report in December, the Wall Street Journal called the device "a marquee handset with cutting-edge features."
Something powerful enough to go head-to-head with the Samsung Galaxy S III and Apple iPhone 5, in other words. Well, a few weeks later, a new scattering of reports on the X-Phone have emerged, and at least one of them targets the device for a May 2013 launch. According to a forum thread spotted by Droid Life, the X-Phone will be introduced at the Google I/O conference this spring, and unveiled in July (hat tip to CNET for the link).
Standard caveat: Google has not yet acknowledged the existence of an X-Phone.
---