A cheaper Surface tablet? Microsoft hints it may be on the way.
Microsoft's current line of Surface tablets are priced higher than the devices offered by many rivals. That could soon change.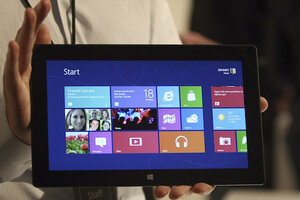 Reuters
Microsoft has strongly hinted that a cheaper version of its Surface tablet may be on the way.
In an earnings call yesterday, Microsoft CFO Peter Klein said the Redmond, Wash., company was "working closely with chip partners and OEMs" – original equipment manufacturers – "to bring the right mix of devices," which would include a "a greater variety of devices at a bigger variety of price points."
The Windows 8-powered Surface line launched last fall to generally favorable reviews. Critics liked the sleek, sturdy hardware, but questioned whether the software and app ecosystem were as dynamic as they could be. "If you're an early adopter willing to forget everything you know about navigating a computer, the Surface tablet could replace your laptop," summarized Eric Franklin of CNET. "Everyone else: wait for more apps."
---