As BlackBerry 10 debuts, RIM readies its first Super Bowl ad
For the first time ever, RIM, which has seen its standing in the smart-phone market erode, will buy TV advertising space during the Super Bowl.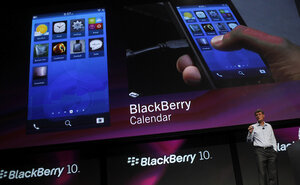 Reuters
On Wednesday, Canadian tech company Research in Motion will unveil its long-awaited new operating system, BlackBerry 10. BB10 is a big deal for RIM: If the OS is a success, it could help the struggling RIM revive its fortunes. If it's a failure, RIM will likely continue to lose market shares to the Apple iPhone and phones running Google's Android OS.
Which is why, for the first time ever, RIM will give one of its products a spot on one of the biggest stages on earth: Super Bowl XLVII. According to the Wall Street Journal, RIM is planning on running at least one spot during the championship game, which will take place on Sunday in New Orleans.
"A Super Bowl commercial is a great opportunity to show the re-designed, re-engineered and re-invented BlackBerry to tens of millions of consumers on the largest advertising stage of the year," RIM exec Frank Boulben said in a statement. No word yet on exactly what the ads will look like, although we're hoping for something on the level of last year's "Halftime in America" spot. "Halftime in the smartphone wars," perhaps.
---