Google Maps presents North Korea through a new lens
Google Maps released its first atlas of North Korea on Monday, which outlines major roads, landmarks, hospitals, and prison labor camps within the country's borders.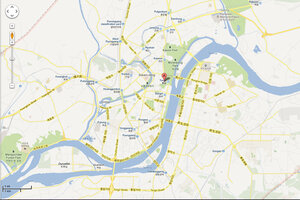 Google Maps
Google Maps has ventured everywhere from the Swiss Alps and Antarctica to the rugged terrains of the Grand Canyon. With its latest map of North Korea, the web-mapping application offers a glimpse into one the most isolated countries on the world.
Google released mapping data of North Korea on Monday, revealing restaurants, hotels, and other signs of industrialized life in the capital city of Pyongyang, as well as many prison labor camps within the nation's borders.
"For a long time, one of the largest places with limited map data has been North Korea. But today we are changing that," writes Jayanth Mysore, senior product manager for Google Map Maker, in the Google Maps blog.
The map is the product of Google Map Maker and its community of "citizen cartographers," according to the blog.
The crowd-sourced mapping system has had access to the data since 2009, according to a Google spokesman. The submissions had to be refined before going live on Google Maps.
---