Z10 and BB10: Are BlackBerry's new launches worth your time?
BlackBerry 10 is here. How do the new operating system and the new BlackBerry phone, the Z10, stack up?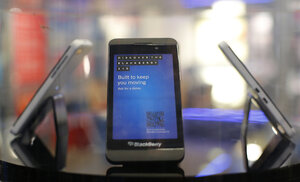 Reuters
Earlier this week, the company formerly known as RIM – and now dubbed plain ol' BlackBerry – took the wraps off a new operating system and a shiny new phone. The operating system is BlackBerry 10 and the phone is the Z10, and both of them are pretty big deals for BlackBerry, which has a lot of catching up to do in the coming months. But are they any good?
In an effort to save you a lot of clicking around, we've collected some thoughts of our own and from around the Internet; for simplicity's sake, we've split everything into three different categories.
The phone
First, the Z10. Let's face it – this thing is a bit square, in every sense of the word. It's got an unpretentious, workmanlike design and a lot of hard edges. Then again, the traditional BlackBerry market demographic has always been businesspeople, who care less about flash than functionality.
"BlackBerry's BlackBerry Z10 is genuinely a pretty nice phone," writes Tim Stevens of Engadget. "Performance, helped by the lightweight QNX-based OS, is more than acceptable. The form factor offers you plenty of screen size in a device that may not feel luxurious, but does at least seem durable. And, bucking the trend, the battery is removable. Camera performance is adequate in most cases and overall there's really a lot to like."
"Adequate" seems also to describe the processing power of the Z10, according to Stuart Miles of Pocket-lint.
---