The Surface Pro: A tablet with PC guts and PC price, to boot
Microsoft's new tablet is high-powered and quite expensive.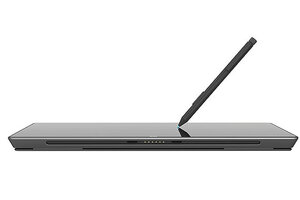 Microsoft
On Saturday, Microsoft will officially launch the Surface Pro, a Windows 8-powered tablet.
The Surface Pro is related to the regular old Surface, but in fact the devices are quite different. The Surface Pro runs a full version of Windows 8, while the Surface has a less powerful processor and runs Windows RT, which cannot run every PC application. The Surface Pro is 0.53-inches thick and weighs 2 pounds, compared to 0.37-inches thick and 1.5 pounds on the Surface. And the Surface Pro starts at a hefty $899, while the base price of the Surface is $499.
Even that $899 base is misleading: To really take advantage of the Surface Pro, you'll want the Touch Cover keyboard, which starts at $119.99.
So how does the Surface Pro measure up to its competitors? Well, in a mostly-positive review over at the New York Times, David Pogue points out that it would be a big mistake to compare the Surface Pro to the iPad – one's just a tablet, after all, and the other is a fully-loaded flat-screen PC.
---