The Surface Pro: A tablet with PC guts and PC price, to boot
Microsoft's new tablet is high-powered and quite expensive.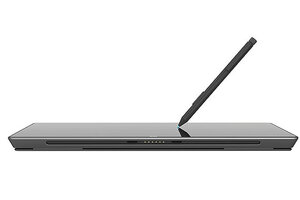 Microsoft
On Saturday, Microsoft will officially launch the Surface Pro, a Windows 8-powered tablet. 
The Surface Pro is related to the regular old Surface, but in fact the devices are quite different. The Surface Pro runs a full version of Windows 8, while the Surface has a less powerful processor and runs Windows RT, which cannot run every PC application. The Surface Pro is 0.53-inches thick and weighs 2 pounds, compared to 0.37-inches thick and 1.5 pounds on the Surface. And the Surface Pro starts at a hefty $899, while the base price of the Surface is $499.
 
Even that $899 base is misleading: To really take advantage of the Surface Pro, you'll want the Touch Cover keyboard, which starts at $119.99. 
So how does the Surface Pro measure up to its competitors? Well, in a mostly-positive review over at the New York Times, David Pogue points out that it would be a big mistake to compare the Surface Pro to the iPad – one's just a tablet, after all, and the other is a fully-loaded flat-screen PC. 
"The Surface Pro is an important idea, almost a new category, and it will be the right machine for a lot of people," Pogue writes. "It strikes a spot on the size/weight/speed/software spectrum that no machine has ever struck. You can use this thing on a restaurant table without looking obnoxious (much). You can hold it in one hand to read a Kindle book while you're standing in line. And wow, is it happy on an airplane tray table. Lean back all you want, pal. I'm getting work done." 
Of course, as Harry McCracken of Time Magazine is quick to point out, you don't get a machine like the Surface Pro without a few compromises. 
The Surface Pro is "bulkier than Surface RT because its components require more interior space," he notes. "Microsoft's stated battery life is five hours, compared to eight for Surface RT. Even the AC adapter is portlier. (One nice touch: It sports an additional USB port you can use to recharge your phone or another gizmo.) The price is heftier, too." 
For more tech news, follow us on Twitter: @CSMHorizonsBlog
---