Apple tests out new 'iWatch': report
Apple is apparently experimenting with a curved glass wristwatch, according to a pair of new articles.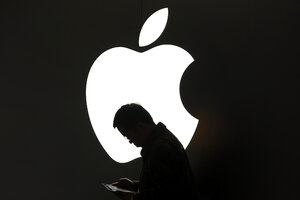 Reuters
The next big Apple product could be an iOS-powered "iWatch."
According to a pair of separate reports in the Wall Street Journal and the New York Times, engineers in Cupertino are currently experimenting with a curved-glass time piece, which would be "based on [Apple's understanding of how such glass can curve around the human body," the Times reports. The paper goes on to note that Gorilla Glass-maker Corning had recently succeeded in manufacturing bendable glass called Willow Glass.
Other than that, however, there are more questions than answers. We don't know when Apple would release such a device – if it releases it at all – or how much it would cost. We also don't know what the device would look like or how it would operate, although it seems reasonable to assume that the watch would sync up with other Apple devices, such as the iPad or iPhone.
---