HTC One will replace One X as flagship HTC device: report
HTC is poised to release a new phone called the One in the US on March 22, according to one tech site.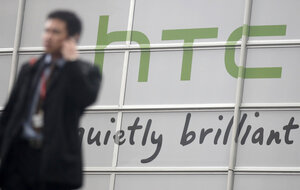 Reuters
HTC is prepping a new flagship phone called the HTC One.
That's the word today from tech site HTC Source, which reports that the device will launch on March 8 in Europe – under the Nokia-ish moniker M7 – and in the US on March 22. Stateside, the HTC One will be sold by Verizon Wireless, AT&T, and Sprint; $200 and a two-year contract will get you the 32GB model and $300 and the same contract will buy you 64GB.
"Our source has also confirmed that the HTC One will have metal casing with front-facing stereo speakers," writes Nick Gray of HTC Source. "The device will be available in both black and silver/white. Previous images of the HTC One with a black soft-touch casing were real, but our source claims they were pre-production units which were used during various phases of testing."
Standard caveats apply: Gray hasn't identified his source, besides saying the person is "trusted," and HTC hasn't commented one way or another on the rumors. But the timing certainly lines up. The last HTC flagship device, the HTC One X, was unveiled in February of 2012, and officially launched a few months later. One year ago, in other words, which means the HTC smartphone line is due for a shake-up.
---