Military invests in smart-phone reconnaissance
AOptix signs a $3 million contract with the US Department of Defense to help develop smart phones with Smart Mobile Identity technology, which scans fingerprints and other physical features for identity verification. Biometrics developers say they aren't far from making the technology commercially available.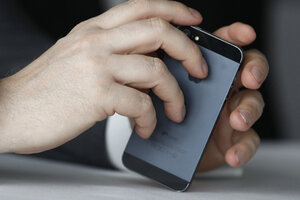 Peter Andrews
Imagine a smart phone that can record your facial features, identify a criminal suspect with voice recognition, and reduce fraud in welfare and other programs.
In a few years, Smart Mobile Identity technology (SMI) may become an essential part of our daily lives, transforming everything from phone reception and online banking to identity verification of criminal suspects and enemies in combat.
The Department of Defense is looking to take advantage of biometrics developments with smart phones and similar devices. AOptix, a biometrics and identity technology firm, has received a $3 million contract from the Defense Department to help develop smart phones with SMI capabilities. Its team will collaborate with CACI International, a data security company.
Chuck Yort, vice president and general manager of Identity Solutions at AOptix, says in an email interview that the SMI technology will be available as a smart phone attachment that wraps around the phone (much like a case). The attachment would include iris and fingerprint sensors.
The SMI device will include an app for the user interface and identification features, among other functions, Mr. Yort says.
Similar technology is used for the identity verification of immigrants at airports and border crossings.
AOptix is one of several firms developing biometrics – biological analysis for data collection.
Data collection in the military
AOptix aims to make biometrics easy to use, Yort says. So between its versatility and clean user interface, the smart phone makes sense as the next medium.
---