HTC One gets a one-up on the X. But will history repeat?
The HTC One, which is intended to compete directly with the iPhone 5 and Samsung Galaxy S III, will go on sale next month in the US.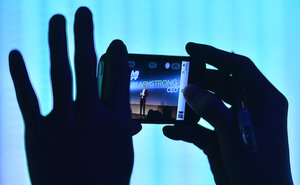 Reuters
On Wednesday, HTC took the wraps off its newest flagship smartphone, the HTC One.
The One – which despite the branding, is actually a follow-up to last year's One X – is being billed as a complete "reinvention of the mobile experience." Well, maybe. It's certainly a very good looking phone, from the aluminum unibody frame to the 4.7-inch high-resolution screen (1,920x1,080 pixels – significantly more than the 1,136x640 on the Apple iPhone 5).
And it's certainly a powerful phone: witness the two gigs of RAM and the quad-core Qualcomm processor.
But according to HTC, the big innovation on the One – the aforementioned "reinvention" – is the revamped Sense interface, which includes something called a BlinkFeed, essentially an aggregation of content from a variety of social-media platforms and news and entertainment channels.
"People today immerse themselves in a constant stream of updates, news, and information," HTC chief Peter Chou said in a statement. "Although smartphones are one of the main ways we stay in touch with the people and information we care about, conventional designs have failed to keep pace with how people are actually using them."
Of course, as we recently noted, the One X was also meant to be a revolutionary phone – and it was certainly beloved by reviewers. ("A masterpiece of an Android device," one critic called it.) But reports last summer indicated that the One X was "underperforming," as were HTC's overall sales. HTC has since dropped off the leader board of the top five global smart-phone brands.
---