How Nicolaus Copernicus rewrote the rules of the solar system
Nicolaus Copernicus was born 540 years ago today.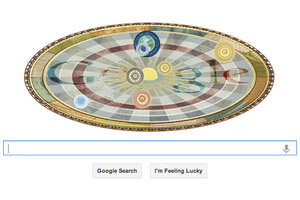 Google
The Google homepage today depicts seven metal planets rotating around a painted sun – an homage to the pioneering Renaissance-era astronomer Nicolaus Copernicus.
So who was Copernicus, exactly? Well, for one, he was the man who first taught us that the earth revolves around the sun, and not the other way around.
Copernicus was born in 1473, in Torun, Poland a low-slung city on the Vistula River. His father was a wealthy merchant, his mother came from a well-established merchant family, and Nicolaus, the youngest of four children, was afforded a comfortable upbringing and a comparably rich education. When he was 10, his father died, and the Copernicus kids passed into the care of their uncle, Lucas Watzenrode.
Watzenrode would eventually become a high-ranking bishop in the Catholic church; with his help, Copernicus, who had studied astronomy and astrology at the University of Krakow, was granted a position as a canon in Warmia, in northeastern Poland. But before moving to Warmia, Copernicus traveled to Bologna, in Italy, to study canonical law.
---