White House opposes restrictions on unlocking cellphones
The Obama administration came out in favor of legalizing unlocking cellphones on Monday. The statement raises questions about what restrictions the Digital Millennial Copyright Act places on consumers with its ban on unlocking personal devices.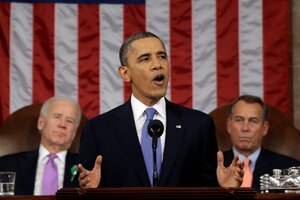 Charles Dharapak/Pool/AP
The White House and the Federal Communications Commission have joined opponents criticizing the Library of Congress' new provisions against unlocking cellphones.
Under current law, consumers cannot take phones they have purchased from one network and use them when they sign with another, even after their previous contracts have expired. They also have to pay roaming fees when abroad, as they cannot insert a local SIM card to a locked phone.
The White House issued a statement Monday in support of laws that change the Library of Congress' restrictions on unlocking cellphones under the Digital Millennium Copyright Act.
R. David Edelman, senior advisor for Internet, Innovation & Privacy, released a statement on behalf of the White House supporting a petition proposing that consumers should be able to unlock their cellphones, tablets, and other devices without criminal or other penalties.
"It's common sense, crucial for protecting consumer choice, and important for ensuring we continue to have the vibrant, competitive wireless market that delivers innovative products and solid service to meet consumers' needs," the statement reads.
---