Facebook redesign like a 'personalized newspaper,' Zuckerberg says
The new Facebook News Feed will focus on individual customization and visual cues.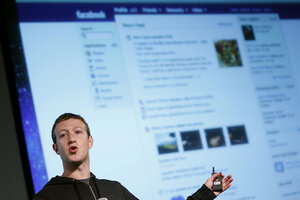 Reuters
Facebook is getting a face-lift.
At a press conference in Menlo Park, Facebook CEO Mark Zuckerberg said Facebook will immediately begin rolling out a redesign of its News Feed, the centerpiece of the Facebook experience. While the current News Feed revolves largely around text, the new News Feed will incorporate more photos, videos, and graphics.
Ideally, Zuckerberg explained, the feed will become a kind of "personalized newspaper," where users can "drill down into topic-specific news feeds," as the New York Times put it. For instance, you can set your preferences to filter in only info from in-platform games, such as FarmVille 2; or you can customize the feed in such a way that it displays only photos from friends.
In addition, you'll be able to set up multiple feeds, and click back and forth between them.
---