Will the Samsung Galaxy S4 get a 'floating touch display'?
Days before the official unveiling of the Samsung Galaxy S4 – the successor to the popular Samsung Galaxy S3 – rumors continue to swirl about the phone's design.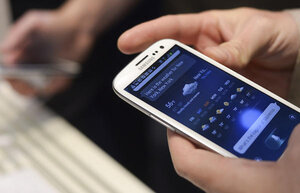 Reuters
On Thursday, at an event in New York, Samsung will introduce its newest smartphone.
The Galaxy S IV is expected to ship with the Android 4.2.1 operating system, and a faster processor and slimmer build than its predecessor. And according to a new report over at Sammobile, the device could also get a floating touch display: a screen, in other words, that allows users to access apps or type emails without actually putting finger to glass.
Sammobile hasn't identified its source – it says only that it recently "received new information" – so take the report with a grain of salt. But the supposition that the Galaxy S4 will feature next-gen tech is not particularly new. Last week, the New York Times reported that the new Samsung smartphone will be equipped with a feature that tracks the motion of our eyeballs and adjusts the screen accordingly.
---