Samsung debuts first official photo of the Galaxy S4
And from what we can tell, the Samsung Galaxy S4 will look a whole lot like the Samsung Galaxy S3.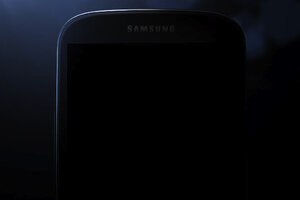 Samsung
On Thursday, Samsung reps will take to a stage at Radio City Music Hall in New York and unveil the latest Samsung smart phone, which will almost certainly be called the Galaxy S4 (or S IV, if you're being persnickety).
The Galaxy S4, of course, is the successor to the Galaxy S3, one of the only smart phones to dethrone the Apple iPhone in global market share. The S4 launch is being watched very carefully.
Samsung hasn't said exactly what the S4 will look like, but last night, the South Korean conglomerate dropped its biggest hint to date: A shadowy photograph that shows the upper half of the device (see above). What can we tell from this photo? Well, we can tell that the S4 is not going to be a radical departure from the S3, at least not in basic shape. In fact, the S4 appears to look a whole lot like the S3.
---